About Us
Meyer Shwarzstein
President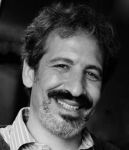 In the decades Meyer has spent in the entertainment business, he worked at a major studio and at independent distribution companies, where he headed up US and international sales for all rights worldwide. He founded Brainstorm in 1995 as he became aware of the opportunity to distribute to and produce for TV and new media. While the company has been involved in distributing hundreds of movies, it's the market-tailored approach to each release which has become Brainstorm's hallmark. For storytelling, that's even been more true. Meyer's passion for working with writers and directors drives him to work with those who like to tell stories in original ways.
Michelle Shwarzstein
Vice President of Marketing and Acquisitions
Michelle is responsible for overseeing all film acquisitions, as well as the overall marketing strategy for every Brainstorm release. Acquisitions under her leadership include The 11th Hour (Kim Basinger), I Am Michael (James Franco, Zachary Quinto), Strange Weather (Holly Hunter), Ideal Home (Paul Rudd, Steve Coogan), and A Midsummer Night's Dream. Michelle joined Brainstorm Media in 2012 as Director of Digital Distribution after having spent 3 years in social media marketing in Boston.
Nicole Guenthard
Manager for Development and Production
Nicole is Manager for Development and Production for Brainstorm Media. During her time at Brainstorm, she has worked on various projects for Lifetime, Hallmark, and Netflix. Prior to Brainstorm, she has worked with filmmakers from all over the world as well as the development and production of branded content for brands including Ford, Klondike, and Lincoln.
Claire Kung
Marketing and Distribution Coordinator
Claire graduated from UCLA with a degree in Psychology and Statistics and her skillset is strongly focused in digital media, marketing, and graphic design. While pursuing her education, she has also been involved in various projects including in data analytics, research, event planning, animation, and theater production. She has loved film, stories, and entertainment for as long as she can remember, and is always excited to work on new movies at Brainstorm Media.
What We Do
Development and Production
Brainstorm Media has developed and produced a number of movies and series. It is currently developing, producing and/or co-financing new movies for a variety of TV, SVOD and theatrical release.
Film Distribution
Having been involved in distribution since 1995, Brainstorm has been a trend-setter in VOD, TV and other media. Now that the indie film industry has evolved, the company treats distribution more like a craft. The distribution plan for each individual film is tailored for that movie to maximize the outcome. In the movie business, it's been generally accepted that the development and production are the only areas which require creativity. No longer. As the business continues to change, distribution will further evolve as a craft designed to facilitate a connection between filmmakers and their audience.