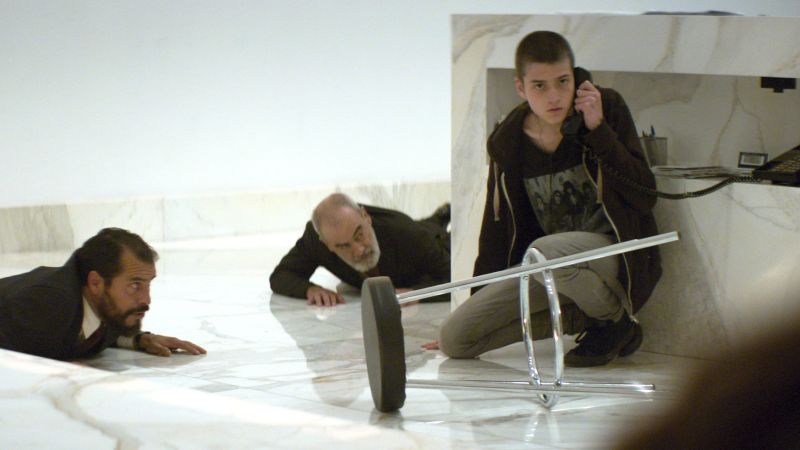 When the insurance company refuses to provide care for Sonia's terminally-ill husband, an increasingly violent series of events unravel as she fights the system in this engrossing thriller. Spanish with English subtitles.
Monster With A Thousand Heads, A
Foreign | Thriller | 2016
Cast
Jana Raluy, Sebastian Aguirre Boeda
Synopsis
When Sonia receives the news that her husband's cancer has become terminal, she races to secure the insurance company approval for the care that can help him. Met with indifference and negligence at every turn, Sonia's desperation triggers a primal survival instinct as a series of increasingly violent confrontations unfold. A sharp, urgent tale of a distraught woman intent on protecting her family at all costs, Rodrigo Plá's latest film is an engrossing combination of thriller, drama and timely socio-political commentary.
Producers
Sandino Saravia Vinay, Rodrigo Plá
Director
Rodrigo Plá

---
Official Selection, Venice Film Festival 2015
Official Selection, Reykjavik International Film Festival 2015
Official Selection, London Film Festival 2015
Official Selection, Hamptons International Film Festival 2015
Official Selection, Warsaw Film Festival 2015
Official Selection, Chicago International Film Festival 2015
Official Selection, Göteborg Film Festival 2016
Official Selection, Fribourg International Film Festival 2016
Official Selection, Villeurbanne Festival Reflets du cinéma ibérique et latino-américain 2016
Official Selection, Sarasota Film Festival 2016
Official Selection, Istanbul Film Festival 2016
Official Selection, Montclair Film Festival 2016
Official Selection, New York City, New York 2016
Official Selection, Sydney Film Festival 2016
Official Selection, Transatlantyk Festival 2016
Official Selection, Jerusalem Film Festival 2016
Official Selection, Film and Art Festival Two Riversides 2016
Official Selection, Melbourne International Film Festival 2016
Official Selection, Zurich Film Festival 2016