The Latest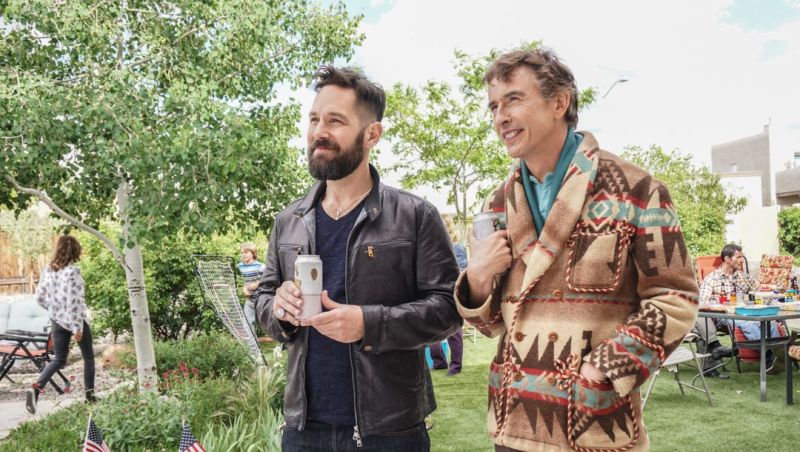 June 28, 2018
Teo Bugbee, The New York Times
As two well-heeled aesthetes living in a version of gay paradise, where one partner hosts a cooking show that the other produces, Erasmus (Steve Coogan) and Paul (Paul Rudd) are ambivalent about the prospect of parenthood.
But when Erasmus's estranged son is sent to prison, leaving Erasmus's troubled young grandson Bill in his and Paul's care, the couple adapt to the child's needs. For better and for worse, their parenting style matches their prickly relationship. Flighty Erasmus plans parties to help Bill make friends, while duty-bound Paul takes over mundane tasks like packing lunches and driving the boy to his Santa Fe elementary school.
The director of "Ideal Home," Andrew Fleming, based the movie on his own experience as the second parent to his partner's child, and the movie thrives by depicting the idiosyncratic textures of gay relationships. "Ideal Home" is genuinely funny, and the poignant and pithy script is aided by the chemistry between its stars, who are equally adept with comedic punch lines as they are with dramatic gut punches. Refreshingly, the film's tone seems pitched more to gay audiences than straight ones. Erasmus and Paul would prefer white wine over beer, thank you, and there is a pleasing and rare lack of self-consciousness about the way the characters engage with their identities.
"Ideal Home" avoids explicitly addressing its politics until the credits, which play over a photo montage of real gay families. Mr. Fleming's gesture is clearly heartfelt, but in a film that avoids the sappiness so frequently reserved for gay domesticity in popular entertainment, it is the one sentimental sleight of hand that gives the game away.
Ideal Home NYT Critic's Pick
Deadline
Stephen King's novella The Gingerbread Girl has been optioned by U.S. production and distribution outfit Brainstorm Media, which plans to distribute the film in North America. Mimi Steinbauer's Radiant Films International is launching foreign sales efforts on the thriller in Cannes.
Frequent King collaborator Craig R. Baxley will direct the film from a screenplay written by King and Baxley. Mitchell Galin will produce. Casting is currently underway.
Baxley has previously directed the King adaptations Storm of the Century, The Triangle, Kingdom Hospital and Rose Red, while Galin produced the adaptations of King's Pet Sematary, The Stand, Thinner, The Night Flier, Creepshow 2, The Langoliers and Golden Years.
The Gingerbread Girl originally appeared in Esquire magazine, and was later included in King's 2008 collection of stories Just After Sunset. The story focuses on Emily, a woman recovering from a recent loss in a secluded house in the loneliest stretch of New England. She avoids contact with her husband and her father and channels her grief into a grueling daily running regimen. This is doing her all kinds of good, until one day she makes the mistake of looking into the driveway of a man named Pickering. Pickering also enjoys privacy, but the young women he brings to his home suffer the consequences of knowing him. The tension hinges on whether Em will be next.
"We are excited to be working with Craig and Mitchell on this film. This cat-and-mouse thriller will appeal to Stephen King fans everywhere," Brainstorm Media president Meyer Shwarzstein said.
"You cannot find a more valuable or bankable name than Stephen King in today's market, and this pulse-pounding thriller with memorable characters and gripping tension will be exactly what buyers are looking for in Cannes," said Radiant CEO Mimi Steinbauer.
Upcoming releases for Brainstorm include Ideal Home starring Paul Rudd and Steve Coogan and A Midsummer Night's Dream.
This is the second deal for a King novel announced in Cannes, following our scoop on Netflix acquisition In The Tall Grass.
About Brainstorm
Development and Production
Brainstorm Media has developed and produced a number of movies and series. It is currently developing, producing and/or co-financing new movies for a variety of TV, SVOD and theatrical release.
Film Distribution
Having been involved in distribution since 1995, Brainstorm has been a trend-setter in VOD, TV and other media. Now that the indie film industry has evolved, the company treats distribution more like a craft. The distribution plan for each individual film is tailored for that movie to maximize the outcome. In the movie business, it's been generally accepted that the development and production are the only areas which require creativity. No longer. As the business continues to change, distribution will further evolve as a craft designed to facilitate a connection between filmmakers and their audience.