The Latest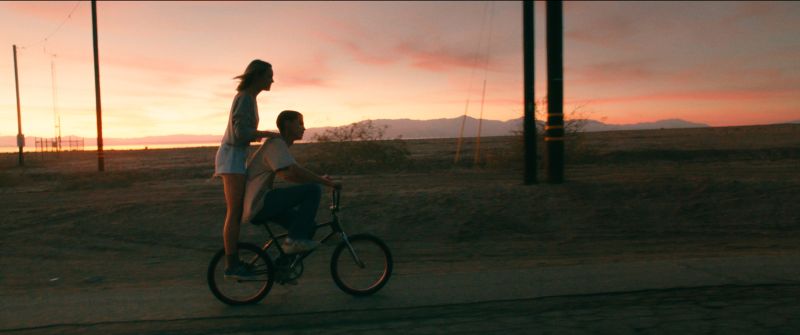 January 17, 2019
CRITIC'S PICK
Gentle, wistful and often quite beautiful, Bruce Thierry Cheung's "Don't Come Back From the Moon" is a dreamlike meditation on abandoned children and dying locations.
Set amid the arid emptiness of California's Salton Sea, its almost alien landscape in perfect harmony with the movie's title, the filament of story unfolds through the teenage eyes and low-key narration of Mickey (Jeffrey Wahlberg). His small community, he tells us, was once a holiday destination, but the lake is shrinking and the last factory has closed. Now men are leaving, slinking off into the night without explanation — except for one, whose exit note says he has gone to the moon.
Trailer: 'Don't Come Back From the Moon'CreditCreditVideo by Brainstorm Media Mickey's father (a briefly seen James Franco) is the latest to depart, leaving Mickey to worry about his quietly devastated mother (a wonderfully subdued Rashida Jones), and his younger brother (Zackary Arthur). The bond between the siblings, and among their similarly deserted friends, is the one emotional constant in a movie that weaves pain and anger and sorrow into a haunting mood of unresolved yearning.
Adapting Dean Bakopoulos's 2005 novel, Cheung fashions a sense that time has stopped and lives are suspended — until fathers come home, or prosperity returns. Children forced too soon to become adults act out and draw inward in scenes that some may find aimless and metaphorically strained. Yet the movie's emotional potency is undeniable, its slow crescendo of wounded feelings and shimmering photography leaving unexpected imprints on the eyes and heart.
Don't Come Back from the Moon NYT Critic's Pick
About Brainstorm
Development and Production
Brainstorm Media has developed and produced a number of movies and series. It is currently developing, producing and/or co-financing new movies for a variety of TV, SVOD and theatrical release.
Film Distribution
Having been involved in distribution since 1995, Brainstorm has been a trend-setter in VOD, TV and other media. Now that the indie film industry has evolved, the company treats distribution more like a craft. The distribution plan for each individual film is tailored for that movie to maximize the outcome. In the movie business, it's been generally accepted that the development and production are the only areas which require creativity. No longer. As the business continues to change, distribution will further evolve as a craft designed to facilitate a connection between filmmakers and their audience.