The Latest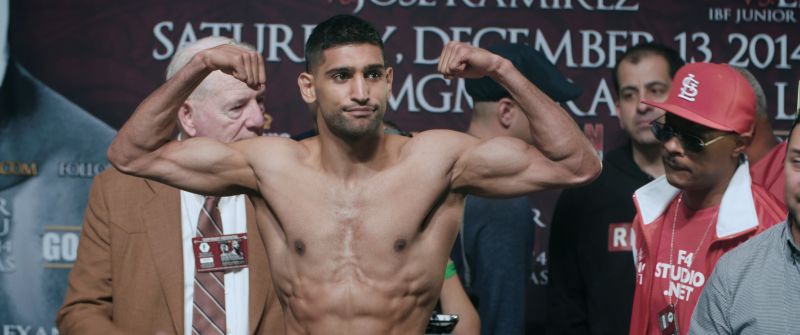 November 15, 2018
An exasperatingly slick documentary with a charismatic subject, "Team Khan" follows two years in the rise of British-born Muslim boxer Amir Khan, a dashing champion chasing the ultimate test of greatness: a match against the likes of a Floyd Mayweather or Manny Pacquiao.
Directors Blair Macdonald and Oliver Clark secured great access across training sessions, photo-ops, moments with wife Faryal and their 2-year-old daughter, and spirited get-togethers in gray suburban Northwest England with his extended Punjabi clan. If "Team Khan" offers any insight as it aggressively packages him with the familiar tropes of verité sports-doc portraiture, it's how the closeness of Khan's relatives — many of whom work for him — keep him grounded behind that high-wattage smile and disciplined drive to make the most of his lightning quick blows.
Built around a few key bouts in Las Vegas and New York meant to set him up for that hoped-for call to challenge a legend, the directors' "Rocky"-ish approach has its upside (Khan is easy to root for) and downside (is this a film or a commercial?). There are also side trips to cement his philanthropic bona fides, including a trip to Pakistan to show support after 2014's Peshawar school massacre, and a visit to his ancestral village. If your taste for athletic snapshots has tired of tales of the troubled, Khan's at least smoothly offers someone as comfortable being a Muslim hero and family man as he is a fast-jabbing contender.
About Brainstorm
Development and Production
Brainstorm Media has developed and produced a number of movies and series. It is currently developing, producing and/or co-financing new movies for a variety of TV, SVOD and theatrical release.
Film Distribution
Having been involved in distribution since 1995, Brainstorm has been a trend-setter in VOD, TV and other media. Now that the indie film industry has evolved, the company treats distribution more like a craft. The distribution plan for each individual film is tailored for that movie to maximize the outcome. In the movie business, it's been generally accepted that the development and production are the only areas which require creativity. No longer. As the business continues to change, distribution will further evolve as a craft designed to facilitate a connection between filmmakers and their audience.