The Latest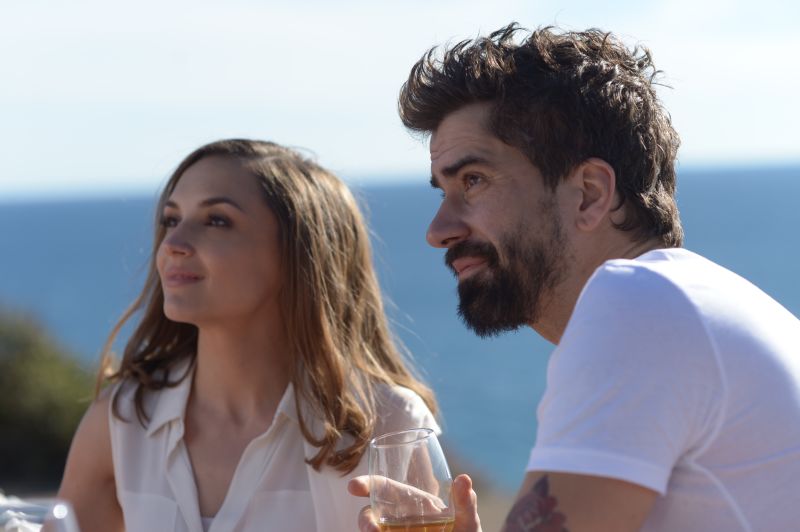 July 11, 2018
At initial glance, the notion of Shakespeare's oft-reinvented "A Midsummer Night's Dream," reset in modern-day Los Angeles complete with a surfer dude Puck and texted soliloquies wouldn't exactly lend itself to movie magic.
But darned if Casey Wilder Mott's feature directorial debut doesn't prove to be a disarmingly effective, visually vibrant frolic.
While previous incarnations have become rock operas or set against a disco beat (1999's "The Donkey Show"), it was probably only a matter of time before you'd find a Hermia (Rachael Leigh Cook) who's a movie star dubbed H-Pup, or a Theseus (Ted Levine), now a big-shot Hollywood producer, landing the cover of Variety as Showman of the Year.
And even though the play is no longer the thing (it's now a very-low-budget film), and this time the overzealous Bottom (Fran Kranz) finds his head transformed into an ass of the human anatomical variety, somehow it all works.
Credit an energy level that takes its buoyant cue from Baz Luhrmann's "Romeo + Juliet" and a similarly sprightly cast, with especially delightful work by Avan Jogia's impish Puck and Lily Rabe's Helena, recast as a brooding screenwriter.
Meanwhile Mott, who started out in Hollywood working in the fabled William Morris Agency mailroom, nimbly choreographs all the updating, resulting in a breezy, cute-and-clever confection that's tailor-made for a sultry midsummer's night.
About Brainstorm
Development and Production
Brainstorm Media has developed and produced a number of movies and series. It is currently developing, producing and/or co-financing new movies for a variety of TV, SVOD and theatrical release.
Film Distribution
Having been involved in distribution since 1995, Brainstorm has been a trend-setter in VOD, TV and other media. Now that the indie film industry has evolved, the company treats distribution more like a craft. The distribution plan for each individual film is tailored for that movie to maximize the outcome. In the movie business, it's been generally accepted that the development and production are the only areas which require creativity. No longer. As the business continues to change, distribution will further evolve as a craft designed to facilitate a connection between filmmakers and their audience.