About Us
Meyer Shwarzstein
President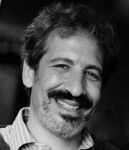 Meyer Shwarzstein is President of Brainstorm Media, an independent production and distribution company he founded in 1995. The company distributes films in all media and it develops, finances and produces original scripted and unscripted films and series. Before Brainstorm, Shwarzstein spearheaded new media development for a variety of film distribution companies including MGM. Shwarzstein has developed and produced dozens of movies, including Bridge to Terabithia, A Liar's Autobiography and an anthology of documentaries for AT&T. He has been an outspoken advocate of independent film in Washington and is a member of the Academy of Motion Picture Arts and Sciences, and the Academy of Television Arts and Sciences.. Shwarzstein is also game designer, book publisher and composer.
Michelle Shwarzstein
Head of Distribution
Michelle leads all distribution at Brainstorm where she's overseen the marketing, sales, acquisitions, and operations for hundreds of titles over the past 9 years. She works with her incredible team to carry on the legacy of the 25-year-old company by bringing creativity, transparency, and expertise to the business of independent film distribution. Acquisitions under her leadership have included Ideal Home, The Wolf Hour, We Have Always Lived in the Castle, Mama Weed, Rare Beasts and North Hollywood.
Michelle holds a BA in Writing, Literature and Publishing from Emerson College and is currently pursuing her Executive MBA at the UCLA Anderson School of Management.
Alex Peters
Director of Sales & Acquisitions
Alex is the Director of Sales & Acquisitions at Brainstorm Media. Previously, he worked in Indie Programming & Acquisitions at iNDemand, and Legal & Business Affairs at Screen Media Ventures, where he also managed acquisitions and programming for Popcornflix, an AVOD platform. He has always loved films of all kinds, and is thrilled to be part of a team bringing audiences and exciting voices in cinema together. He has degrees in Modern Culture and Media & Literary Arts from Brown University, and wrote this bio next to a snoring puppy.
Nicole Guenthard
Manager for Development and Production
Nicole is Manager for Development and Production for Brainstorm Media. During her time at Brainstorm, she has worked on various projects for Lifetime, Hallmark, and Netflix. Prior to Brainstorm, she has worked with filmmakers from all over the world as well as the development and production of branded content for brands including Ford, Klondike, and Lincoln.
Claire Kung
Marketing and Distribution Operations Manager
Claire graduated from UCLA with a degree in Psychology and Statistics and her skillset is strongly focused in digital media, marketing, and graphic design. While pursuing her education, she has also been involved in various projects including in data analytics, research, event planning, animation, and theater production. She has loved film and stories for as long as she can remember, and is always excited to work on new movies!
What We Do
Distribution
Brainstorm is a full-service, all-rights, boutique distributor with deep, longstanding relationships and direct distribution deals that span the current digital landscape. Known for our creativity and flexibility, we craft every release strategy to fit the film. Armed with the wisdom of our 25+ years in the business and a passion for the content we represent, we continue to navigate the ever-changing media ecosystem with excitement.
Development and Production
Since its inception in 1995, Brainstorm Media has developed and produced dozens of features films and series. It currently has a robust slate of feature films and series in development with various platforms. In 2021, Soul Santa, the first film produced as part of the company's partnership with Reuben Cannon Entertainment, was BET's top-performing Christmas movie.